Key Features:
Compact design
Breakthrough in LED print head technology for high-resolution, high-quality images
Compact and versatile finishing capabilities
Intuitive, easy-to-use colour user interface
Direct printing from and scanning to USB (Optional)
Create searchable PDF's on the fly (Optional)
eMeter – Automatic meter reading is available on this device
Environmental Features:
EA-Eco toner – Fusing temperature of the EA-Eco toner is more than 20°C lower than that of conventional toners, cutting power used by around 15%.
LED Scanning – by using the LED (light emitting diode) as the light source for image scanning. This enables brightness that is 1.5 times greater than xenon lamps used in conventional devices and reduces the power consumption by 70%
LED Printhead – Fuji Xerox has developed a high-precision, LED print head technology "DELCIS" (Digitally Enhanced Lighting Control Imaging System) that achieves an output resolution of 1,200 x 2,400 dpi that is equivalent or even superior to that produced by a conventional laser raster output scanner (ROS) system.
Induction Heating Fusing Technology – With this new technology, the fusing unit does not require pre-heating and doesn't consume power when the machine is in standby mode.
Biomass plastic, comprising more than 30% of plant-derived constituent (corn), is used in specific device parts.
Finisher Options: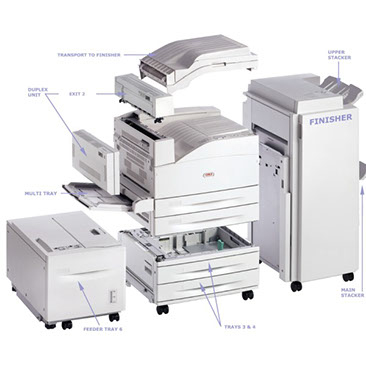 Tray Options: